There are many construction companies that don't understand how to get government contracts for infrastructure projects. In 2020 alone, government spending on roads, schools, and other public infrastructure exceeded $146 billion. Furthermore, the government sets aside about 25% of these contracts for small businesses. So you don't have to be a large company to land government contracts! Learn how some of the most successful contractors in California and Nevada work with their marketing teams to procure these large civic infrastructure projects.
Infrastructure Investment and Jobs Act (IIJA)
The $1.2 trillion bill is expected to boost spending by about $550 billion above baseline levels. This money will go to every aspect of infrastructure, from transportation and water, to energy and construction of bridges, to broadband infrastructure. You can see below what sectors the money is proposed to flow to.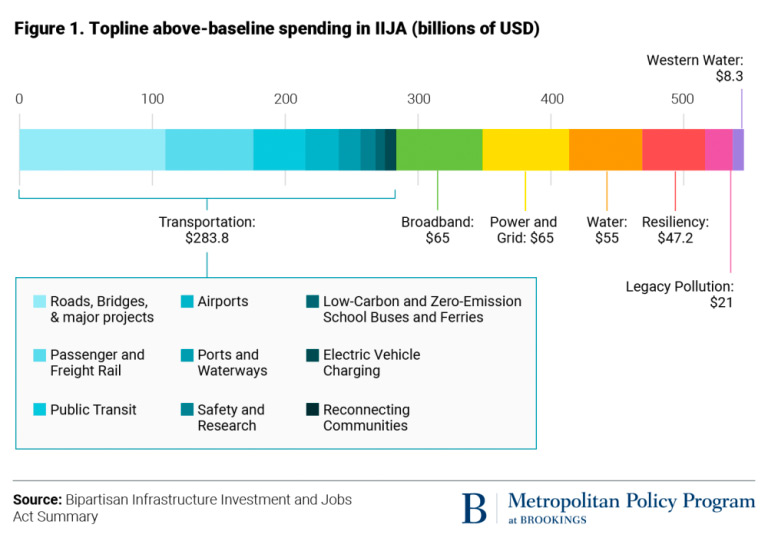 In order to make your infrastructure construction company eligible for a piece of the proverbial pie and get government contracts, you have to jump through some hoops. After all, it is the government!
Steps To Register Your Business With The Government
Step 1: Obtain A DUNS Number
Before you can work with the government, you must first register as a government contractor. To do that, you must get a Dun & Bradstreet's Data Universal Numbering System, or D-U-N-S number, for your business. This is a nine-digit unique number for each physical location of your company that submits bids on federal contracts.
Step 2: Register in the SAM Database
After you've received a D-U-N-S number, you must register your company in the System for Award Management (SAM) database. https://sam.gov/content/home To be given a government contract, you must be registered with SAM. The good news is that you could even get contracts simply by being listed there. This is because the database is frequently used by federal agencies to find companies that suit their requirements.
Step 3: Find Your NAICS Code
In order for the government to understand what type of business you are, they have to know what HAICS (North American Industry Classification System) code you fall under. You can locate your NAICS code or codes that describe your product, service, or industry here. To make it simpler for federal agencies to locate you, include your NAICS code in your SAM registration. It's also beneficial to figure out what your company or industry's Standard Industrial Classification (SIC) code is, so you can add it with your SAM registration.
Step 4: Determine your business size.
To qualify for government contracts for small businesses, you must satisfy SBA size standards. The SBA has a Size Standards Tool on its website that can help you determine whether your firm qualifies as an SBA-designated small business based on your NAICS number and some basic information about it.
You might be getting fatigued at this point as you learn how to get government contracts. Take heart, you're almost there and could be landing your first infrastructure construction project in no time!
Step 5: Get a Past Performance Evaluation for GSA Contracts
To be eligible to compete for contracts with the General Services Administration, which offers a wide variety of lucrative contracts, you'll also need a Past Performance Evaluation. You can get more information on the Past Performance Evaluation here. The audit will evaluate your past performance based on a statistical examination of performance data and questionnaire replies.
Step 6: Check For Small Business Administration (SBA) Programs
Being a small business is good for government construction contracting in a variety of ways. First, numerous government construction contracts are "set aside," which implies that only qualified small businesses can compete (if there is any). The benefits of having little competition are enormous, especially in today's extremely competitive infrastructure construction environment. Low-interest loans and other forms of government financial help are also accessible to small companies that would not otherwise be able to obtain business bank loans.
Finally, special initiatives like the mentor-protégé program enable small businesses to participate in unique partnerships with major enterprises (e.g., subcontracts, joint ventures, etc.) to compete for and execute federal government contracts more effectively while also benefiting from restricted competition.
Sign up with SBA here.

Completing these steps can be a time consuming and arduous process, but the lucrative rewards are well worth the time!
Marketing To The Government
Once you've registered to become eligible for government construction projects, it's time to market your SMB directly to a government agency or prime contractor. How to get government contracts starts with checking the Federal Procurement Data System (now SAM), which actually gives you the ability to identify which government agencies aren't yet meeting their targets set aside for SMBs. If you can find these, and submit an RFP, you're almost guaranteed preferential consideration over non-small business firms.
Working With A Marketing Agency
Infrastructure construction companies and engineering firms should work with marketing firms familiar to their industry. There are some specific methods and verticals that have proven effective to help firms land these government construction projects to build bridges, airport construction, and freeways.
To this end, Profile by Design has over 20 years experience working with construction, industrial, and engineering firms to accomplish their goals. Contact us today to talk through your proposal.